A Healthy Smile is a Happy Smile!
At Boyd Family Dentistry, we recommend that you bring your child in to see us by his/her first birthday. Though this may sound early, we can teach you proper pediatric oral hygiene techniques, check for cavities, and watch for developmental problems that may occur.
Your child won't keep his or her first teeth forever, but that doesn't mean those tiny pearly whites don't need conscientious care. Maintaining your child's dental health now will provide health benefits well into adulthood, as primary (baby) teeth serve some extremely important functions.
For one thing, primary teeth serve as guides for the eruption of permanent (adult) teeth, holding the space into which these new teeth will erupt. The crowns (tops) of the permanent teeth actually push against the roots of the baby teeth, causing them to resorb, or melt away. In this way, the adult teeth can take their proper place.
Your child's primary teeth will be there for most of childhood, helping your child to bite, chew and speak. For the first six or so years, he or she will be relying on primary teeth exclusively to perform these important functions. Until around age 12, your child will have a mix of primary and permanent teeth. You will want to make sure those teeth stay healthy and are lost naturally. Let Boyd Family Dentistry guide your children towards a healthy lifelong smile.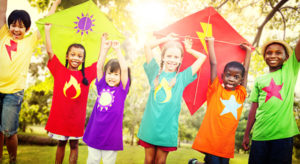 There are a variety of dental treatments we provide to prevent tooth decay in children, or to save or repair teeth when necessary. They include:
Topical Fluoride
Dental Sealants
Root Canal Treatment
Bonding
At Boyd Family Dentistry we strive to make sure your child always has a positive experience at our dentist office!